How to Create a Listing Video in HomePrezzo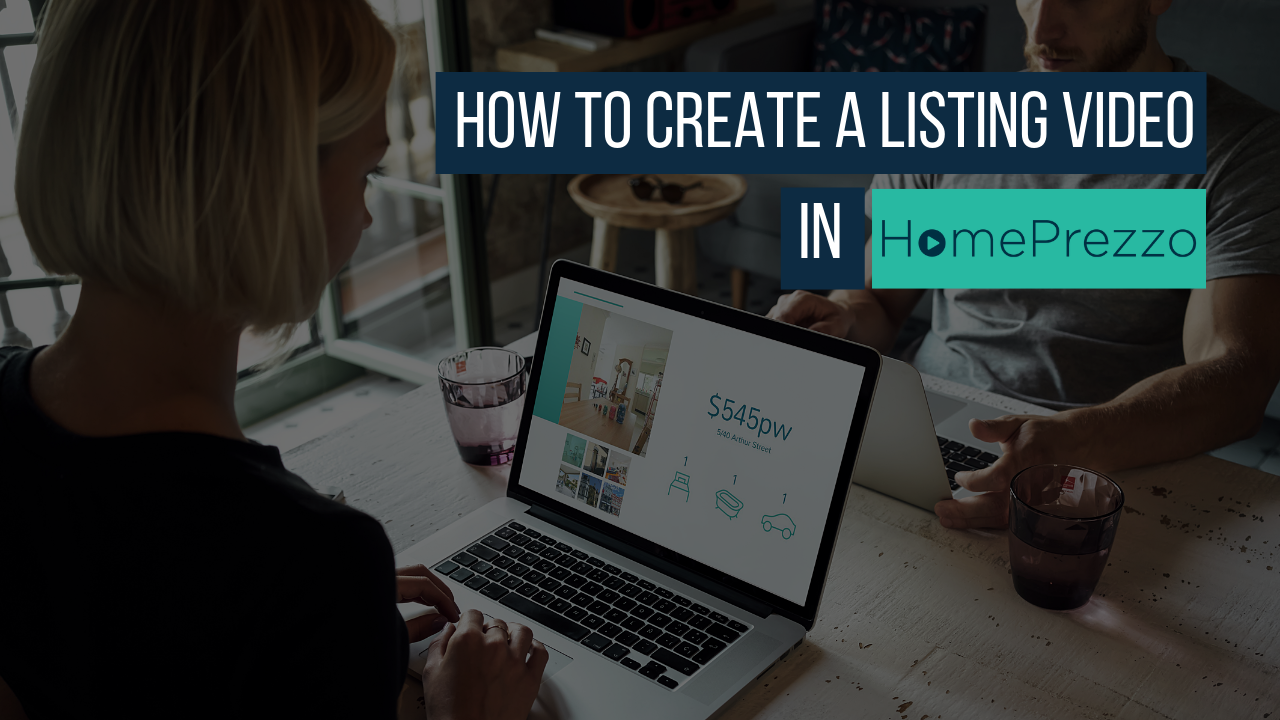 Turn your latest property listing into a smart video to share with buyers on social media, an EDM or your website. 
00:00          Hi, it's Kylie Davis here from HomePrezzo, and I'm going to show you how to create a listing video using the HomePrezzo platform. And our brand new template, tinted listing. So, click on the listing video in a button on your dashboard and then choose the Listing Tinted, but you can also choose stylist or family fun. Family fun works for family homes. Stylist is the modern apartments, but Listing Tinted is our brand new template. We're rather proud of it.
00:31                 Normally, HomePrezzo is connected to your CRM, which means that you can access all of the images and the content that you've written up for a newly listed property. Mine, however, is connected to the call object API alone. So, I'm going to type in a property or an address that I used to live in when I was a girl down in Victoria. I know that the house I grew up in has been knocked down, and there's a rather lovely new one. Clicking on it. Okay. So, four bedrooms, two baths and four car spaces. I'm going to click on Go. So, it's going to pull all the information through to let me start to build my Prezzo. In my settings, I've already set up my profile. It's got my photo, it's got my company logo and in this instance I'm using the LJ Hooker logo, and my contact details. Please don't ring me on any of the contact details, because they're all made up.
01:33                 So, I'm going to call this a new listing, Carson Street, Q. And I'm going to make it public because I want to share this video once I'm done with social media. And then I'm going to choose my colours and make sure I'm happy with them. Now, they're set to the default LJ Hooker colours, and the accent is red, the text is orange and the tint is yellow. That's not really going to work. So, I'm going to make sure my text is black and click on choose to make sure that it selects it. And I'm going to go for more of an orange, the more LJ Hooker ... That's a little bit too orange. I'm going to use that as my tint.
02:14                 Now, I'm going to choose a different font for this one. I like Roboto as ... Where is it? There we go, there he is. I can put some music behind it. So, I'm going to put uplifting acoustic music behind it. Very nice. It will haunt you in your sleep. Now, I'm going to click on next. Now, in this next step, the platform is going to let me edit the text and choose the best photos to sell this property. Remembering that this is a mock up property that I'm using. So, a one word tagline, I'm going to say, stunning, is a beautiful home. And I need an image that really sells it. Because this is not for the board I'm going to put the outside image of the home there.
03:05                 The address, this is going to come up automatically. So, I'm then going to choose what I think is my next best image. I'm going to choose an outside view. Bed, bath and cars is a rather lovely master bedroom shot in here. There we go. A feature photo. I really like the ... I think the living area is rather fancy. And then I'm also going to choose the large kitchen and dining space. Now, there's one last photo which is another outdoor looking at the pool, which in this photo looks a little bit green. So, I might just change that again to select that outside area again. 
03:58                 Normally in here, I would copy and paste the content that I have as part of my advertising campaign. I'm going to ... Stunning, modern family home with luxury features close to private schools. I could say a lot more. But seeing I'm making this up off the top of my head, I'm going to leave it at that. At this point, it's starting to pull together the colours that I chose, the photos that I chose, information about the property from the core logic database, or from your CRM in your instance. And it's going to build it up as a ... Now, red, why have I got red? I'm going to wait a minute. It's very tempting sometimes to click.
04:55              Yep, always wait until you see the circle with the arrow in it. So, let's click it and have a preview. Just listed, very nice. 20 Carson Street. Four bed, four bath, four car. It's showing all the lovely parts of the property. Showing it off to full effect. Now, those watermarks are only appearing in this video because I'm pulling from CoreLogic. And these are my contact details that I put into it. And that's it. It's built a video in just a few minutes.
05:32                 If you click on next to finalise the video, that it will allow you to share it without any issues at all. Always make sure you do that. Sometimes it takes a few minutes to do, but if you need to go and do something else, go and do it. And the HomePrezzo platform will send you an email telling you that the video is being completed.
05:51                 So, that's it. A listing video created from your CRM really quickly. Great to share on social media inside Facebook, on LinkedIn maybe, on YouTube or embed it into an EDM. Or even pop it onto your website. And that's it. Thanks for joining us.