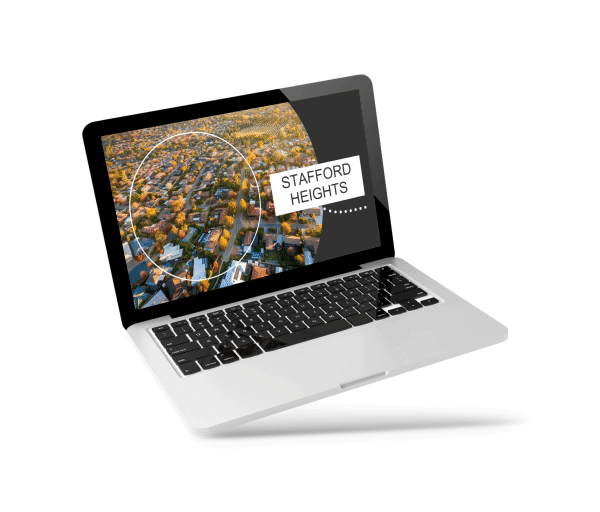 HomePrezzo is the easiest way to create suburb videos using the latest property data from CoreLogic. It's customised with your colours, contact details and branding. Just select your suburb, refine your recent sales and HomePrezzo does the rest to create helpful content for your social media, emails and websites in a flash.
7 ways to get the most out of your HomePrezzo Suburb Video
A short, sharp video that sums up property market activity in your suburb is a great way to share your knowledge about the local area in a format that is highly valuable but easy to understand.It positions you as a market expert who is approachable and helpful – all essential traits that research shows are sought after by today's real estate consumers. You can get a lot of mileage out of every suburb video if you think about where you'll place each video and how often you'll post. Here's seven ways to get the most out of any suburb video you create:
1. Share on Facebook
Target your suburb video at local audiences within the suburb, or select a radius around your shopfront to get as many people in your local area as possible to see the statistics. Advanced users who have uploaded their own databases to Facebook, can create and target lookalike audiences so your video is reaching prospects who have similar characteristics to your past clients.
2. Post on your website
Make your website more than just about properties for sale. Including a suburb statistic video provides useful information for your audience, and helps them understand how the prices on the properties they're looking at in your listings compares to median prices, and provides some great background information that can be important context for their property search.
3. Tweet it!
Tweet out your suburb video and use hashtags to link it to other posts from your community or tag local identities and encourage them to share the local love. Who knows? You could go viral – in a good way!
4. Feature in an email
Boost the effectiveness of your email above the standard of an open rate of less than 20% and a conversion rate that is around 2%. Video both captures attention and imparts information more quickly and will make your email stand out in an inbox. Major tech case studies show video improves open and click through rates by up to 500%.
5. Build out your YouTube channel 
Once you've created your video, upload it to YouTube to create a library/channel of all the suburbs in your territory. If you use HomePrezzo and select the 'auto update' option, the data within your video will automatically update on a regular basis. Almost 5 billion videos are watched on YouTube every day. Why shouldn't yours be one of them?
6. Share on LinkedIn
Business contacts need houses too and LinkedIn is the best medium for establishing your corporate credibility. And let's face it, something as useful as a suburb video providing an update on the property market makes a nice change from all the self-congratulatory and self-promotional content that currently abounds. #bethechange 
7. Send an SMS link
You know the drill. You've just met someone socially, they've learned you're a real estate agent and asked you about the market. Send a quick link to a video via SMS and blow their minds. Let's face it – everyone watches video on their mobile phones these days.
Cover more than one suburb? If you're a real estate agent that has a territory of three or four suburbs, rinse and repeat the outline above for each and you have an entire month of content planning all sorted!Got your own way to use a suburb video that's not covered here? We'd love to hear it!