How to create a real estate content calendar – and fill it quickly and easily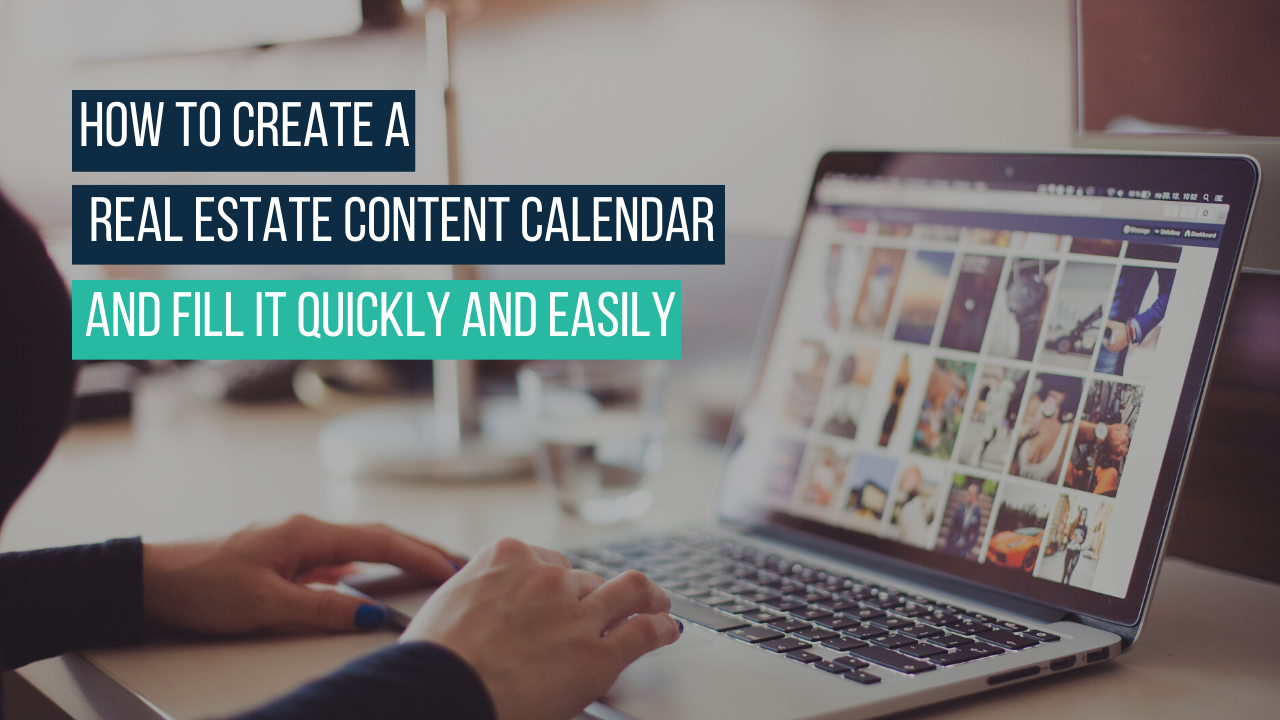 Want to increase your social media presence? Here's a step-by-step guide that help you become a boss at content marketing.
It can be a huge amount of fun posting on social media. It's always great to see the response to posts and to engage with friends and contacts when a post really resonates. 
But let's be honest, social media can also be a major time suck! And if you're posting for your business, you will probably want someone to help you with that. But you'll need to be able to delegate posting with a sense of security that the content will be good, that the tone will be appropriate for your business, and that you'll be able to be consistent and keep it up without losing a huge amount of time or worrying about creating chaos. 
A social media calendar will help you manage the time you spend on social media by planning your coverage in advance, helping you be clear about the content you want to post and keeping everything on track. It will help you maintain posting consistency and to measure and manage the posts that are the most effective. 
Here's how to get started:
A content calendar overview:
Here's an example of a simple content calendar. It's pretty straight forward. You put the days of the week that you intend to post down the first column, and the time period across the top. This content calendar shows content appearing across a month.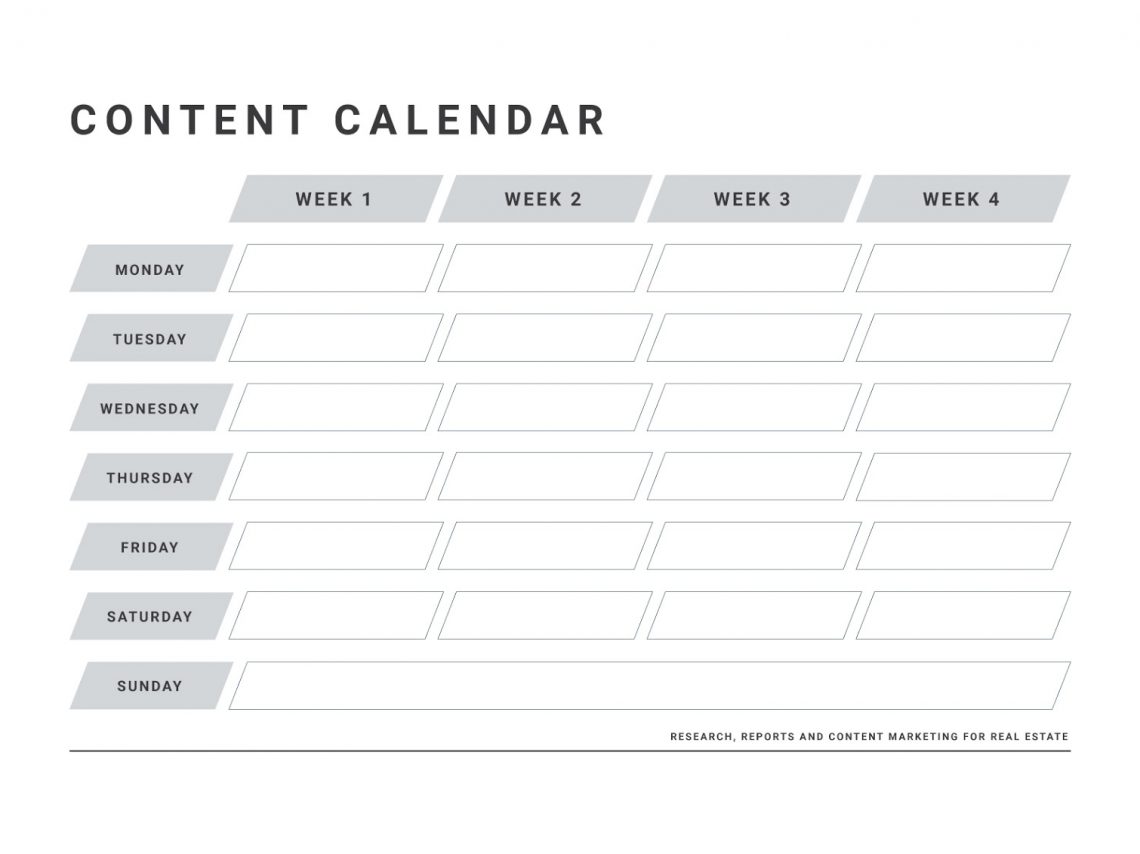 You can download this simple real estate social media content calendar as a Google Sheet here. 
Based on this calendar, we're intending to post content once a day, six days a week. (This calendar gives you Sunday off!). 
It's best to start simple with one post a day while you build up your social media muscle - and confidence. So now we need to decide what we could fill it with.
What should you post? Think about what your audience wants to know
As a real estate agent, you probably want to attract a social media audience of property sellers and buyers predominantly. To do this, you need to think about the kind of information this audience will be interested in. (Hint - it's not you bragging about yourself!) 
1. How is the local market performing at the moment?
2. How much did that house up the road sell for?
3. Is now a good time to buy or sell?
4. What new properties do you have for sale?
5. Are you a good agent? Can I (as a seller) trust you?
Each of these questions can create a great theme for content that you can post regularly. Now we just have to determine how much work is involved to create the content.
Conduct a content audit
Before you start creating content, let's take a look at what you're already doing that you could use or could be adapted easily and where you'll need to fill some gaps. 
Does your agency website feature properties for sale or which have just sold?
Of course you do! This means you can easily create posts that showcase new properties you've just listed, or which have recently sold, just by posting a link and brief commentary. But a word of caution. While this can be useful content, don't go overboard. It's not the only thing clients want to know, and agents who overshare their listings without any other valuable information will be quickly unfollowed.
Are you able to create suburb reports?
Many agencies create suburb reports that talk about how the market is performing and shows key charts and statistics? If you can create a PDF version, you can create a 'give to get' download link that will allow you to capture the details of those who access it. This can be a great way to grow your leads. 
Can you create videos quickly and easily? 
How confident are you in front of a camera? Can you talk about how the market is performing and give a monthly update? Or if you don't feel comfortable, platforms like HomePrezzo allow you to create suburb videos and property listing videos that use the latest data and pull it together into an attractive package. 
Are you able to create graphs or charts and infographics?
If you can create a report or market video, you can probably also do a screengrab of any charts within the report/video and save these as separate images which can be used as social media posts. Alternatively, consider programs that will help you quickly build infographics using the latest property data.
Do you have articles or blogs that answer common questions about real estate?
If you're a bit of a wordsmith, you may have articles or guides that provide advice to buyers and sellers that answer their most common questions. Identifying which ones are most likely to be of interest each week can be a great way to connect with clients or potential clients. 
Can you showcase your make your testimonials attractive?
While uncontrolled bragging on social media is a total turn off, sharing a great review or testimonial in moderation can be powerful especially if you can make it attractive and visual. Platforms like Canva or HomePrezzo allow you to create meme-like posts that can look great. 
Putting it all together
The best way to get consistent about creating social media content is to give each day a theme. Every week on that day, you're going to post the same kind of content. This makes it easy to remember and should make sense in the context of the flow of your week. 
Based on your common client questions and content analysis above, your social media content calendar might look something like this:
Mondays = Happy Customer Day. Post Just Sold updates or testimonials (based on how you went on the weekend)
Tuesdays = Suburb Report Day. If you cover four suburbs within your territory, you'll have more than enough to do a report a week. Alternatively, if you don't cover that many suburbs, you could alternate a report with a graph or infographic. 
Wednesdays = Information day. Post a blog or article and link back to your website that answers a common question based on the market or the season. 
Thursdays = New listings day. Give your followers a sneak peak on the best property you've listed this week that they will want to check out on the weekend. 
Friday = Suburb Snapshot Day. Post a suburb statistic or social media infographic to give your clients a bite-sized insight into how the market is performing. 
Saturday = Market Day. With buyers out in the market actively checking out property, post a suburb video that will help them understand how their market is performing that they can watch over a coffee.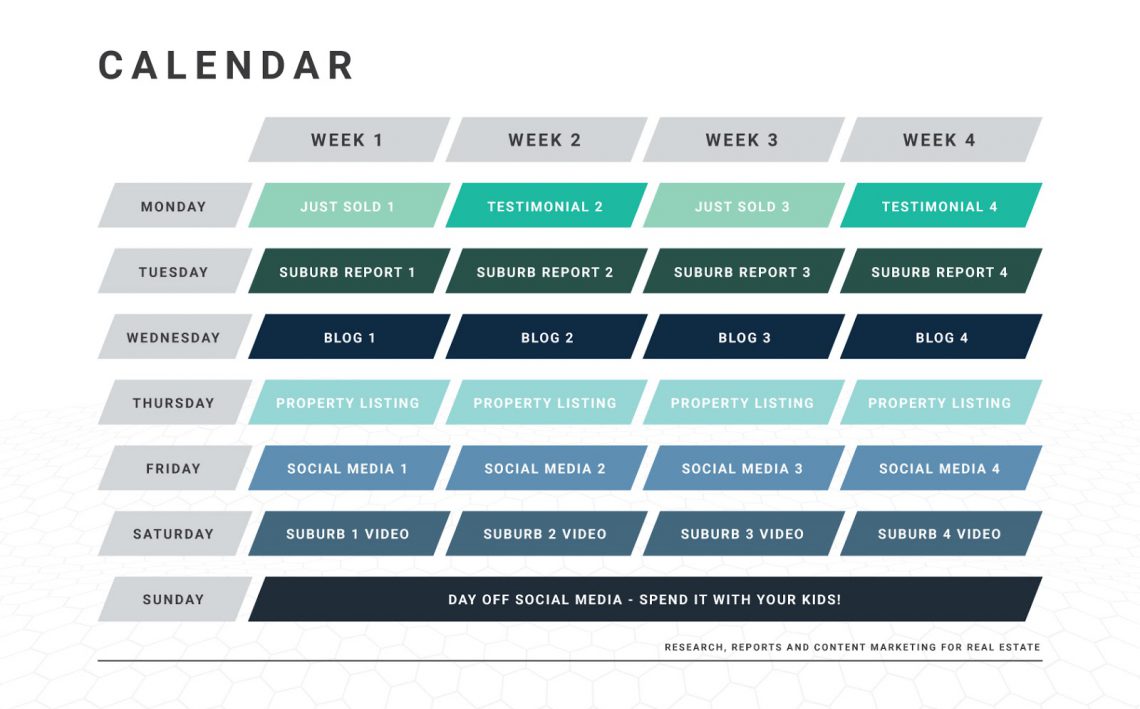 Test and repeat
Trying new things can be hard. The aim of this article is to encourage you to create a social media calendar and start posting great content regularly and consistently. If you haven't done this before, it's going to feel weird. And it probably won't be perfect when you kick-off. That's okay. 
For the next four to six weeks, try an experiment. Each week, create one piece of content and set that up so it posts consistently across the month. For example, create a Suburb Report for each of your selling suburbs in a batch, and then schedule posts for each of them across the month every Tuesday. 
The following week, identify four articles or blogs you could share with your audience and schedule them to post on Wednesday. 
Then try creating a bunch of videos for your local market and schedule them. Before you know it, you'll have your social media calendar completely organised and you'll be posting like a pro. 
How HomePrezzo can help
If you want a quick and easy way to create highly valuable content quickly and easily, HomePrezzo is worth testing out. 
Using HomePrezzo you can create Suburb Reports, Suburb Videos, Property Listing or Just Sold Videos, Testimonial gifs and social media infographics that use the latest property data with just a few clicks. This allows you to build a social media content schedule super quickly and delegate it to your team without worrying about accuracy and quality. 
The social media content calendar above has 24 content slots based on one post a day, six days a week multiplied by four weeks in a month. HomePrezzo can help you create at least 20 of these posts every month (or 240 pieces of content a year) saving you significant time and energy. Through our relationship with Real Content, we can also help you out with articles and evergreen content.