How to create a Rental Video with HomePrezzo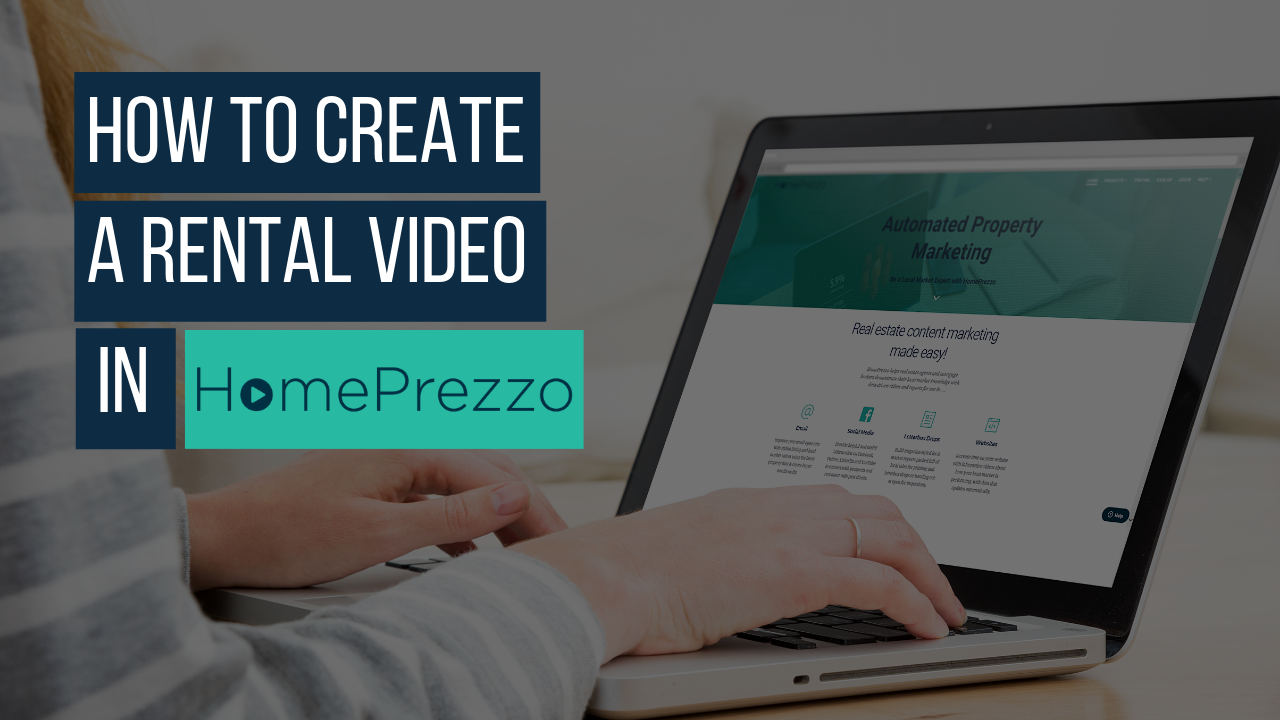 If you're a property manager, you can create great rental market videos to share with landlords, or show potential tenants what's on the market 
00:00               Hey, it's Kylie Davis from HomePrezzo here. I'm going to show you how easy it is to create a rental video. It's great if you're a property manager, or if you're looking to build up ... Or a BDM and are looking to build up your property management business, because you can share them really quickly and easily on Facebook, on any kind of social media. Or you can use them as part of an EDM campaign.
00:20                 So, click on the rental video button inside your dashboard. Let it startup. Now, I'm going to create a rental video for the suburb of Balmain, because I know that Balmain is a really hot rental market that has both houses and units available. Once it's fired up. I'm using the LJ Hooker livery, because that's what I've got in my settings as a pretend LJ Hooker agent. So, apologies to all the LJ Hooker agents out there.
00:53                 I know the guys at LJ Balmain. It's all good. I'm going to make it sound a little bit more interesting than this say, rental market video. I'm going to type in Balmain. I'm going to leave my settings on public because once I've created the video, I want to share it as widely as possible. And I'm going to select my suburb, Balmain. I don't know how I [inaudible 00:01:14] in because it's going to search this out on the call of your KPI and pull all the data through.
01:21                 Now, there's a couple of tricks for players when you're building a rental market video, or any of the videos in the HomePrezzo suite. The first one is to make sure that you're happy. This is usually set to auto. You need to make sure it will auto select just the first six, or the most recent six properties to go into the video. But sometimes there might be data missing, because not all agents will either list the market rent, or they won't list the sale price in the suburb videos.
01:52                 So, you can quickly check that by turning that off. And I can see here that, yep, there are addresses and really nice photos available for each of those properties actually. But you know what, that one's a little bit boring. So, I'm going to turn that off. And I'm going to make this property here, the more expensive house for rent. I'm going to add that in. So, I can see that I've got my six of six.
 02:17                 Now, I'm also going to check my colours. This is really important. The background default in this is coming up red. And I'm not excited about the idea of having a red background video. I think marketing team at LJ would have something to say about that. So, I'm just going to make it white in the background. If you type in six Fs, that's always the default for white.
02:41                 Now, the pop colour is going to be orange. I think that's fine. Text is yellow. No, I don't think that's great either. So, I'm going to make that black. That's much better, okay. Interstate condense, I'm happy with that. I've got the option to put some music on. I'm not going to do that because I've listened to those songs so many times, they haunt me in my sleep, but you're very welcome to choose music.
03:03                 So, now all I do is hit next. And it's going to pull the data from the CoreLogic API. It's going to match that to the colours that I've selected. It's going to pull in my logo and my contact details and start to build the video. One step it does before that is it lets you check that you've got all the photos that you want. If you click on any of these boxes, you can quickly see the photos that are available for it. Now, I'm not convinced that an empty room is going to sell it any better than that kitchen. So, I'm going to leave the default photo on that. Just shut that down. Just going to check this second one because I did change some of the properties. No, I think the front photo shows it off the best, and I'm happy with all the others. They look great. There's no double ups.
03:57                 Now, this section here, you can edit this if you want. It will insert the suburb that you've chosen into this section so you don't need to do anything about that. But if you want to change the messaging here, you're more than welcome to. When I click on next, it's going to start building that video. Here we go. Takes a few minutes, but here is our preview. As soon as it says its stopped loading, we'll be able to see how we go. And remembering I didn't put music on. Let's see. Okay, Balmain Rental Market Update. It's running me through the rental yields. It's telling me what the median rent has been, and how that's gone down a little bit. So, this would be a great video to show potential tenants. The units, the number of rental listings that have been advertised.You can see how busy it is as a rental market. And then some of the properties that are available for rent at the moment. It gives you an idea of the different types of properties available.
05:20                 Now, once you've checked this and you're happy with it, click on the next button that will finalise the video. You can't really share the video properly unless you finalise it. So, always make sure you do that last step. It takes a few minutes. If you don't have time to wait for it, you can always go back to the dashboard, go off and make yourself a cup of tea and it will send you an email once it's finished finalising. And then once you've done that, you'll be able to really share it quickly on Facebook or copy and paste these links to put it elsewhere.
05:52                 And that's all there is to it. You've built your first rental video. Thanks very much for joining us.